Tasmanian Seafarers' Memorial

| | | | |
| | | |
G.V.H. ketch (1895)
The plaque reads ...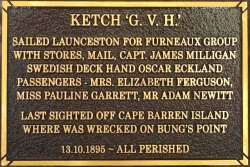 Ketch 'G.V.H.'
Sailde Launceston for Furneaux Group
with stores, mail. Capt. James Milligan
Swedish deck hand Oscar Eckland
Passengers - Mrs. Elizabeth Ferguson,
Miss Pauline Garrett, Mr Adam Newitt
Last sighted off Cape Barren Island
where was wrecked on Bung's Point
13.10.1895 ~ all perished
The sailing ketch G.V.H. was owned by the Launceston shipping firm William Holyman and Sons. It was named after the wife of Thomas Holyman, Grace Victoria Holyman. The 14 ton vessel was built at Formby, Tasmania in 1886.
The G.V.H. was last sighted off Cape Barren Island on 13 October 1895 and wreckage from the vessel, including three bodies, was found the next day on the shore of Cape Barren Island.
The Launceston Examiner newspaper reported the coroner's findings on 22 November 1895.
The G.V.H. had a lucky escape from serious damage in an earlier incident. The Wellington Times and Agricultural and Mining Gazette reported on 7 May 1895 that:
"The s s. Koonya when coming up the river on Saturday, ran into the ketch G.V.H, lying at anchor in the boat channel. The Koonya struck her port quarter doing damage to the extent of about £5. Captain Madden noticed the ketch in time and after getting clear he went aboard but found no one in charge, master and crew being on shore. The ketch had no lights burning. A (sic) inquiry is to be held by the Marine Board."