Tasmanian Seafarers' Memorial

| | | | |
| | | |
Ronald Gregory Walker (1929)
The plaque reads ...
R. Gregory Walker
Died at sea 25.06.1929 aged 22 years
Seaman on full-rigged "Grace Harwar"
bound England via Cape Horn with wheat
from Wallaroo - hoped to film voyage.
38 days out he was on lower topgallant
yard to clear fouled gasket in rough
seas when upperyard fell crushing him.
Ex-journalist "The Mercury" Hobart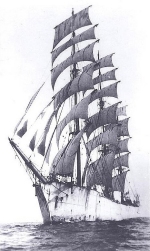 Ronald Walker was an reporter for the Hobart based newspaper The Mercury where he wrote a column about shipping and other port matters. His role suited his love for ships and the sea leading him to the idea of making a movie film of a square rigged sailing ship.
Walker took his idea to a colleague at the newspaper office, a man who bacame well known for his sailing ship books, Alan Villiers.
The Grace Harwah was a fully rigged three masted ship built in 1889 and was one of the last sailing ships to carry grain from Australia to London. Built of steel the London registered Finnish owned ship was lying at Wallaroo in South Australia loading wheat for shipping to England. Walker and Villiers resigned their jobs with The Mercury and joined the Grace Harwah as crew.
In stormy conditions on the 38th day at sea Walker was aloft to release a sail to allow the ship to make better progress. When the sail was hoisted the halyards carried away causing the yard to fall hitting and killing Walker.
Alan Villiers wrote later that "The shock was stunning. We did not - could not - believe it. Nowhere is the awfulness of death more painfully apparent than at sea."
Read more of Alan Villiers account of The Windjammer Film of the passage of the Grace Harwah.