Tasmanian Seafarers' Memorial

| | | | |
| | | |
HMAS Swan

Following the outbreak of World War II in September 1939, Swan was fitted out as a minesweeper. Swan was based at Darwin for anti-submarine patrols and on escort duties and she formed part of the escort force for four troopships bound for Timor. About 300 miles out, they were attacked by forty-five Japanese aircraft, forcing them back to port.
She was still in Darwin Harbour on 19th February when the port experienced its first and most disastrous air raid. Swan managed to get underway but was attacked seven times. Several near misses caused damage to the ship, as well as the death of the three crewmen and wounding of nineteen others. Next day, HMAS Swan (II) proceeded to Brisbane for a refit.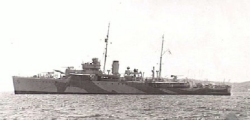 Able Seaman Albert Purdon RAN, was one of three crewmen aboard HMAS Swan (II) who died as a result of the enemy action at Darwin on 19th February 1942.
Albert was born on March 1st, 1912, to Albert and Ethel Purdon of New Norfolk. He served in the 4th Battalion from 1930 to 1933, then the DAP militia forces. He was listed as a farm labourer before joining the Navy on March 21st 1940.
On HMAS Cerberus, Albert qualified in gunnery and seamanship, rising from Ordinary to Able Seaman in twelve months. He then served on HMAS Perth to the end of 1941, then on the Swan until his death.