Tasmanian Seafarers' Memorial

| | | | |
| | | |
MY Saywhen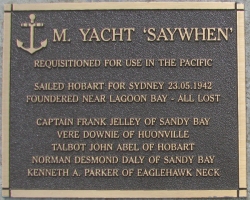 The plaque reads ...
M. Yacht 'Saywhen"
Requisitioned for use in the Pacific
Sailed Hobart for Sydney 23.05.1942
foundered near Lagoon Bay ~ all lost.
Captain Frank Jelley of Sandy bay
Vere Downie of Huonville
Talbot John Abel of Hobart
Norman Desmond Daly of Sandy Bay
Kenneth A. Parker of Eaglehawk Neck
The motor yacht Saywhen (ex-President II), was a twin screw motor launch of about 18 tons, 52 ft overall x 13ft 6 x 4ft, built in Launceston by E.A. Jack in 1935 for William Annear and was owned by Mr Albert John Shields of Huonville when she was requisitioned for use in the Pacific.
Sailing from Hobart for Sydney on May 23, 1942, she called in at Swansea at 8 pm on the 25th to allow minor repairs to one of her engines, before continuing on, passing through the Schouten Passage about 10 pm. This was the last known information of her voyage. It was conjectured that she was possibly blown south by heavy gales soon after and presumably attempted to put in at Dunalley for shelter. All five of the crew were drowned when the vessel foundered in or near Lagoon Bay, their bodies found on the beach with the broken remains of the vessel.
Those lost were Captain Frank Jelley, master of Red Knight's Road, Sandy Bay; Mr Vere Downie, of Huonville, (son of Mr W. Downie and father of Athol and Keith); Mr Talbot John Abel of Hobart; Mr Norman Desmond Daly of Greenlands Avenue, Sandy Bay; and Mr Kenneth Albert Parker of Eaglehawk Neck (brother of Roy).
References: Tasmanian Shipwrecks Vol 2. by Broxam & Nash; The Mercury June 1942