Tasmanian Seafarers' Memorial

| | | | |
| | | |
Rebecca (1853)
Rebecca. Barque, 550/343 tons. Built at Greenock, Scotland, 1816; reg. London, 422/1851, Hobart 48/1848, 36/1851. Lbd 95.6 x 23.3 x 17.8 ft.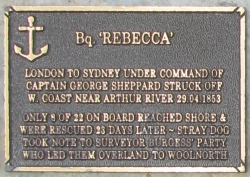 Purchased by Ben Boyd in June 1844, she became the largest vessel in his whaling fleet and after his business collapsed in 1848 she was bought by Tasmanian interests and refitted as a general cargo vessel to ply between Tasmania and ports on the mainland and overseas. She also took diggers to the Californian and Victorian gold rushes. Captain George Sheppard.
Ran aground without warning about quarter of a mile offshore, near the small headland that now bears her name about ten miles south of the Arthur River, north- west Tasmania, 29 April 1853. She had left London for Sydney on 2 December 1852 with a valuable general cargo including wines and beers. Six lost, including the captain's wife, when a boat capsized. The Captain and another man were lost attempting to reach shore on floating wreckage.
Some weeks after the wrecking, a dog was found which proved rather friendly, and after a message was tied under his collar he was driven off; thus a surveyor and his party located the castaways twenty-three days after the wreck. Surveyor Burgess' party led them overland to Woolnorth from where they reached Circular Head on board the cutter 'David Howie', and then Melbourne on the brig 'Mary Stewart', arriving on 18 June.
Loney reports: One boat containing the second mate, captain's wife and eight crew was swamped soon after launching and all the occupants drowned. The twenty-one men left on board, including the captain, tried to swim ashore; the captain was not among the eleven who made it.