Tasmanian Seafarers' Memorial

| | | | |
| | | |
MV Rabaul (1941)
The plaque reads ...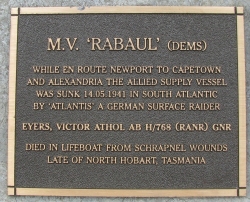 M. V. Rabaul (DEMS)
While en-route Newport to Cape Town
and Alexandria the Allied supply vessel
was sunk 14.05.1941 in South Atlantic
by 'Atlantis' a German surface raider
Eyers, Victor Athol AB H/768 (RANR) GNR
died in lifeboat from schrapnel wounds
Late of North Hobart, Tasmania
M. V. Rabaul (DEMS) 14.05.1941 TSM 89
During the Second World War, many RAN gunners served on vessels requisitioned for war service ~ these vessels ranged in size from small boats capable of river travel to large, ocean going commercial transport vessels. These vessels were known as DEMS vessels or Defensively Equipped Merchant Ships.
Able Seaman Victor Athol Eyers of Hobart was one such RAN gunner and he joined the crew of the cargo vessel MV Rabaul, a ship of 6,809 tons belonging to W. R. Carpenter Overseas Shipping Company.
In May 1941 the Rabaul sailed from Newport independently and unescorted, bound for Table Bay and Alexandria with 3 passengers and a cargo of coal, war stores and 3 aircraft.
At 0100 hours on 14th May 1941, with the loss of 6 crew and 3 passengers, MV Rabaul was shelled and sunk in the South Atlantic by the infamous German Raider Atlantis under the command of Commandant Bernhardt Rogge, after refusing to stop for a boarding party to take over the ship as directed by Atlantis.
Following the sinking of the Bismark the North Atlantic had been swarming with British warships. Rogge had decided to abandon the plan to return to Germany and instead had been returning to the Pacific where the Atlantis sank, among other vessels, the M. V. Rabaul.
Rabaul attempted evasive action during this confrontation, but was no match against the speed and armament of a top sophisticated and equipped German Surface Raider.
Bruce Wharton, a survivor of the action, wrote that the crew managed to get the starboard lifeboat launched. He stated "Victor Eyres one of our DEMS naval gunners who hailed from Hobart Tasmania, had a large piece of schrapnel in the centre of his back. Victor was my best mate on the ship and he sadly died in my arms in the lifeboat."
---
Note: AB Victor Athol Eyers ~ spelling of surname as on official documents.