Tasmanian Seafarers' Memorial

| | | | |
| | | |
Portland (1833)
The plaque reads ...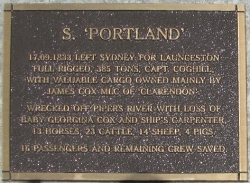 S. 'Portland'
17.09.1833 left Sydney for Launceston
full rigged, 385 tons, Capt.Coghill
with valuable cargo owned mainly by
James Cox MLC of 'Clarendon'.
Wrecked off Pipers River with loss of
baby Georgina Cox and ship's carpenter,
13 horses, 23 cattle, 14 sheep, 4 pigs.
15 passengers and remaining crew saved.
TSM 96. S. 'Portland' 27.09.1833
The ship Portland sailed from Sydney for Launceston on 17th September 1833 under the command of Captain D. Coghill, with a valuable cargo consigned mostly to passenger James Cox MLC of Clarendon.
Passengers on board were listed as:
Mr & Mrs Cox of Clarendon & 2 daughters, Mrs Thompson and 2 children – returning from NSW), Mary Reeves, servant of Mrs Thompson; Dr Inches, Mr Edward Lord, Mr J. S. Uther, Miss Blanford, John McMahon, Andrew Gallaghan, John Davis, James Murray, John Murray, Michael Power, Henry Tully and John Stewart.
On the morning of the 27th September the master misjudged the coastline as the vessel was approaching the Tamar River , then tried to put about but went onto a reef some hundred yards offshore. Confusion reigned. Cox's infant daughter Georgina was washed out of her mother's arms and although saved by a sailor, she died from shock and exposure. The ship's carpenter was drowned as he was attempting to swim ashore apparently with 50 sovereigns in his pockets. The remaining crew & 16 passengers landed safely but all livestock was drowned – 13 horses, 23 cattle, 14 sheep and 4 pigs.
The survivors reached Launceston late on the 1st, October but left Captain Coghill at George Town as he was dangerously ill.
The Portland was a full-rigged ship of 385 tons, 107 ft 5 ins. x 28 ft. 4 ins. x 6 ft. 1 ins between decks, built in Bristol in 1823 and registered in London.