Tasmanian Seafarers' Memorial

| | | | |
| | | |
S.S. Orion
The plaque reads ...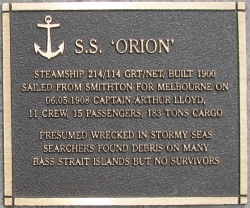 S.S. 'Orion'
Steamship 214/114 GRT/NET, built 1900
Sailed from Smithton for Melbourne on
06.05.1908 Captain Arthur Lloyd,
11 crew, 15 passengers, 183 tons cargo.
Presumed wrecked in stormy seas.
Searchers found debris on many
Bass Strait islands but no survivors.
S. S. Orion. TSM 88. 07.05.1908
The steamship Orion was built at Devonport in 1900 by Harry Wood for William Holyman & Sons. She was a wooden vessel of 214 tons gross/114 tons net, was 123 feet long and was used in the North-West Coast to Melbourne trade.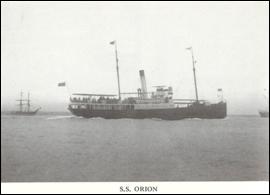 S. S. Orion left Smithton for Melbourne at 7pm on May 6th 1908, carrying a compliment of 12 crew including Captain Arthur Lloyd, 15 passengers and an estimated 183 ton cargo of potatoes and other farm produce.
When she failed to arrive in Melbourne by May 11th , a search was instigated in the King Island region and along the Victorian coastline but without success. Over the next few months wreckage was found in the Furneaux Group including 4 lifebuoys and an alleyway door west of Long Island, a life boat near Trousers Point, Flinders Island , and items near Goose Island .
It was presumed that the Orion had foundered with the loss of all 27 souls aboard in the prevailing heavy westerly to south-westerly gales due to unknown causes although a subsequent inquiry considered that over loading with cargo, an estimated 42 tons of which was said to have been stored on deck, would have played a major role in the vessel's disappearance.
S.S. Orion
Crew (12)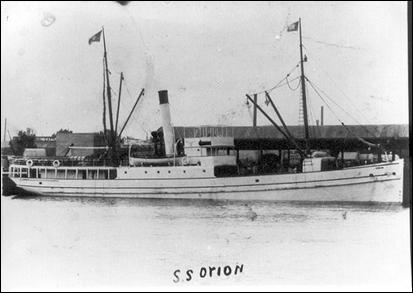 Captain: Arthur Lloyd of Hobart
Chief Officer: Mr. W. Tate of Melbourne
Chief Engineer: Mr. W. Bulman of Carlton , Victoria ;
Cook: Dominic Lee of Devonport.
Stewardess: Miss Brown (sister of Mrs. J. H. Eade of Devonport);
Firemen: Mr. Cunningham of Coburg , Victoria .
Harry Burgess of Stanley, son of Captain Fred Burgess
Mr. Lockwood;
Sailors: Alick Kirkwood, son of James Kirkwood of Zeehan; (may have been a fireman)
Ern Mears of Stanley
Dan ?? thought to be from Launceston
Ernest ??
Passengers (15)
From Stanley : (8 known passengers):
SS Orion at Stanley 1908
Mrs. Robert Stewart/Stuart of Muddy Creek, Duck River , late of Victoria , & 2 little children;
Mrs. Watts & 3 children;
Miss Murray
From Smithton: (4 known passengers):
Mrs. Stewart & 2 children;
Miss Elsie Danks of Bayswater St. , Kensington;
Unknown passenger who boarded at Burnie.
2 unknown passengers.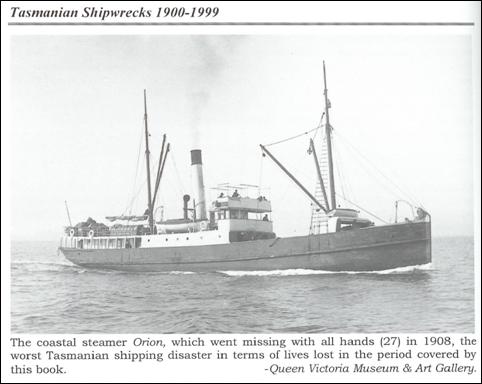 From 'Tasmanian Shipwrecks' Vol. 2 by Graham Broxham & Michael Nash