Tasmanian Seafarers' Memorial

| | | | |
| | | |
Lake Illawarra (1975)
The plaque reads ...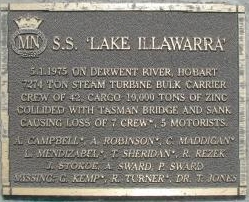 S.S. 'Lake Illawarra'
5.1.1975 on Derwent River, Hobart
7274 ton steam turbine bulk carrier
crew of 42, cargo 10,000 tons of zinc
collided with Tasman Bridge and sank
causing loss of 7 crew*, 5 motorists.
A.Campbell*, A.Robinson*, C.Maddigan*
L.Mendizabel*, T.Sheridan*, R.Rezek
J.Stokoe, A.Sward, P.Sward
Missing G.Kemp*, R.Turner*, Dr T.Jones
On a misty Sunday evening 5th January 1975 the bulk carrier MV Lake Illawarra with a cargo of zinc ore entered the River Derwent bound for the zinc smelter 3 miles north of the Tasman Bridge. Colliding with one of the piers near the eastern shore, two spans of the bridge decking collapsed sinking the ship and resulting in a loss of seven crew and five motorists.
The ship rests today just south of the bridge well underwater but still in close proximity to bridge piling. The bridge collapse divided the city making a few minutes drive from the eastern shore to considerably longer taking a 50 km drive on narrow roads via Bridgewater. It took two years for the bridge to be repaired.
Those who lost their lives were:
Angus Campbell, crew
Arthur Robinson, crew
Clarence Maddigan, crew
Louis Mendizabel, crew
Thomas Sheridan, crew
Robert Rezek, motorist
Joyce Stokoe, motorist
Anthony Sward, motorist
Pamela Sward, motorist
G Kemp, motorist
R Turner, motorist
Dr Thomas Elvet Jones, motorist.