Tasmanian Seafarers' Memorial

| | | | |
| | | |
Governor Phillip (1848)
The plaque reads ...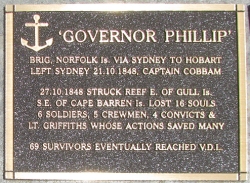 'Governor Phillip'
Brig, Norfolk Is. via Sydney to Hobart.
Left Sydney 21.10.1848, Captain Cobbam.
27.10.1848 struck reef E. of Gull Is.
S.E. of Cape Barren Is. Lost 16 souls
6 Soldiers, 5 crewmen, 4 convicts &
Lt. Griffiths whose actions saved many.
69 survivors eventually reached V.D.L.

Governor Phillip, a teak-built brig of 177 tons, was built in Burma in 1821 and named the Fathalmein. The brig was purchased by Governor Darling in 1827 for the government of New South Wales and renamed Governor Phillip. Following the transfer of administration of Norfolk Island to Van Diemen's Land , nominal ownership of the vessel passed to that colony.

Following passage from Norfolk Island to Sydney en route to Hobart Town , Governor Phillip left Sydney on Saturday 21st October 1848 with Captain Cobbam in command. She sailed with 85 persons on board, passengers being Mr & Mrs Elliott, and three children, Mr & Mrs Lempriere, Master James Lempriere, Mr Belstead, Mr Adams, Joseph Wilson with Mrs Cobban and child; guard members - Lieutenant Griffiths, 1 sergeant and 13 rank and file of the 96th Regiment, 2 privates from the 99th Regiment, 40 prisoners from Norfolk and Cockatoo Islands, and crew comprised of master, 2 mates and 12 seamen.

At daybreak on the 27 th October 1848, the Governor Phillip, with all sails set, ran on the reef off Gull Island , east of Cape Barren Island , in the Furneaux Group. In heavy seas the rescue of 69 people was effected with the loss of the following 16 persons - 7 guards of the 96th Regiment: Lt Ernest Frederick Griffiths, Privates Bowles, Driscoll, Jones, Manning, Matthews, Pearson; 5 crewmen: Charles Kemp, William Groves, James Manning, William Scarborough, William Smith and 4 convicts: William Billingsby, Henry Green, William Hamblin and a Mr Tinkler.

Lt Griffiths toiled unceasingly to get as many survivors ashore as he could, personally unchaining the convicts, but unfortunately he succumbed only yards from the shore. The survivors remained on Gull Island before moving to Clarke Island, then Preservation Island until PS Kangaroo arrived to take them all on to Hobart Town.