Tasmanian Seafarers' Memorial

| | | | |
| | | |
George III (1835)
The plaque reads ...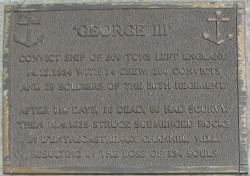 George III
Convict ship of 308 tons left England
14/12/1834 with 34 crew, 200 convicts
and 29 soldiers of the 50th Regiment.
After 118 days, 16 dead, 60 had scurvy.
Then 10.4.1835 struck submerged rocks
in D'Entrecasteaux Channel, V.D.L.
resulting in the loss of 134 souls.
The George III was a English penal transportation ship that sailed from Woolwich on 14 December 1834 bound for Hobart Town. Persons on board totalled 308 of whom there were 220 male convicts, guards, their families and crew.
On arriving in waters of Van Dieman's Land on 12 March 1835 the master chose to enter the D'Entrecasteaux Channel to avoid being blown ashore. In the early evening the George III struck rocks and proceeded to break up in the heavy swell. The tragedy resulted in 133 lives being lost. Many convicts were drowned through being kept below decks and five were shot to quell rioting.
The George III was a full rigged ship of 394 tons measuring 114 feet in length, 28 feet 3 inches beam and was built at Deptford in 1810