Tasmanian Seafarers' Memorial

| | | | |
| | | |
Brier Holme (1904)
The plaque reads ...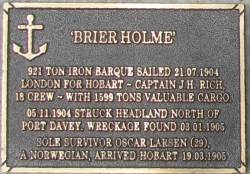 'Brier Holme'
921 ton iron barque sailed 21.07.1904
London for Hobart - Captain J H Rich,
18 crew ~ with 1599 tons valuable cargo.
05.11.1904 struck headland north of
Port Davey. Wreckage found 0.01.1905.
Sole survivor Oscar Larsen (29),
a Norwegian, arrived Hobart 19.03.1905
The British three masted barque Brier Holme sailed from London on 21 July 1904 bound for Hobart under the command of Capt. J H Rich. The vessel was listed as missing with Lloyds of London in November. Subsequently wreckage was found just north of Port Davey on Tasmania's west coast.
The Age newspaper reported on 9 March 1905 that " The Court of Inquiry into the wreck of the Brier Holme gave its reserved decision today. It found that there was no evidence as to whom blame was to be attached, but it was of opinion that the vessel was out of her reckoning. It was not believed that any explosion took place, as stated by Larsen, the survivor."