Tasmanian Seafarers' Memorial

| | | | |
| | | |
Brahmin (1854)
The plaque reads ...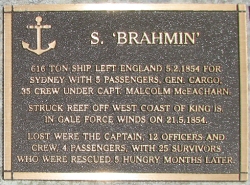 S. 'Brahmin'
616 ton ship left England 5.2.1854 for
Sydney with 5 passengers, gen. cargo,
35 crew under Capt. Malcolm McEarchern.
Struck reef off west coast of King Is
in gale force winds on 21.5.1854.
Lost were the Captain, 12 officers and
crew, 4 passengers, with 25 survivors
who were rescued 5 hungry months later.