Tasmanian Seafarers' Memorial

| | | | |
| | | |
HMAS Armidale (1942)
The plaque reads...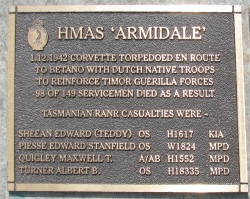 HMAS 'Armidale'
1.12.1942 corvette torpedoed en route
to Betano with Dutch native troops
to reinforce Timor guerilla forces
98 of 149 servicemen died as a result.
Tasmanian RANR casualties were ~
Sheean, Edward (Teddy) OS H1617 KIA
Piesse, Edward Stanfield OS W1824 MPD
Quigley, Maxwell T. A/AB H1552 MPD
Turner, Albert B. OS H18335 MPD
Ordinary Seaman Edward (Teddy) Sheean's bravery in firing his anti-aircraft gun downing two enemy aircraft as his heavily attacked ship the HMAS Armidale sank, have in recent years been the subject of many persons recommending that he be awarded the Victoria Cross.

Still strapped to his gun the wounded Sheean (pictured) continued firing as the waves engulfed him as he went down with his ship. He was born at Lower Barrington, Tasmania and joined the Royal Australian NavyReserve in 1941. Later he joined HMAS Armidale the newly commissioned corvette as an anti-aircraft gunner. In 1942 the Armidale was sent to Darwin to undertake a resupply mission to Japanese occupied Timor. On 1 December 1942 the Armidale was hit by was hit by two aircraft-launched torpedoes and immediately began to sink.
Sheean's bravery was recognised though being "Mentioned in Despatches" and having a Collins class submarine named after him, the only Royal Australian Navy vessel to be named after an Ordinary Seaman. He was just 18 years of age.
Able Seaman Edward Stanfield 'Ted' Piesse from Bridgewater, Tasmania survived the sinking of HMAS Armidale, clinging to a raft with 25 others. An aerial photograph taken from a search aircraft records 12 survivors still drifting on the raft but a full search by multiple ships and aircraft failed to find any further evidence of the raft. Edward Piesse was declared to have died the day following the sighting.
Able-bodied Seaman Maxwell Timothy Quigley was another of the 40 crew listed as missing of the Armidale's complement of 83 officers and crew along with Ordinary Seaman Albert Benjamin Turner.