Tasmanian Seafarers' Memorial

| | | | |
| | | |
Glen Armstrong Thorne and John Thorne (1947)
The plaque reads ...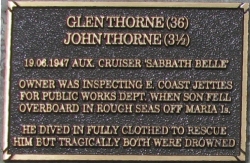 Glen Thorne (36)
John Thorne (3½)
19.06.1947 AUX Cruiser 'Sabbath Belle"
Owner was inspecting E. coast jetties
for Public Works Dept. when son fell
overboard in rough seas off Maria Is.
He dived in fully clothed to rescue
him but tragically both were drowned.
Glen Armstrong Thorne aged 36 and his young son John Thorne aged 3 ½ years, were lost at sea off Maria Island in heavy seas on June 19th , 1947. Glen Thorne who owned the auxiliary Cruiser Sabbath Belle was inspecting East Coast jetties for the Public Works Department.
Those on board the Sabbath Belle on the day of the tragedy were Glen Thorne, his wife Alice Belle Thorne, son John Thorne, Mrs Thorne's father, C. S. Planck of Albert Park, Melbourne, Robert Seymour of Dynnyrne and Leonard Wm Gaul, a Hobart Marine Board diver of Johnson St, Moonah.
The weather turned bad after the vessel had left Swansea so it was decided to shelter behind a point overnight. The weather was still bad the next morning and the decision was made to cut over to Maria Island instead of continuing to Triabunna as Thorne also had to inspect the island's jetty. They were positioned about two – three miles north of Maria when they headed for the island.
The boy was sitting by his grandfather one minute and gone the next – it was presumed later that he overbalanced and had fallen overboard. Glen dashed to the stern of the boat and jumped in fully clothed, reached his son and held him.
Despite frantic efforts to rescue the pair, heavy seas prevented any success and both were seen to go under together. Trooper Longey of Triabunna later supervised a search in the area where they were last seen but their bodies were never found.