Tasmanian Seafarers' Memorial

| | | | |
| | | |
Noel Edward Cruse (2015)
This Plaque is located on the Spring Bay Professional Fishermen's Memorial.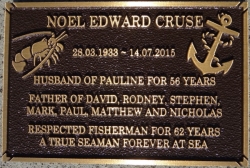 The plaque reads ...
Noel Edward Cruse
28.03.1933 ~ 14.07.2015
Husband of Pauline for 56 years
Father of David, Rodney, Stephen,
Mark, Paul, Matthew and Nicholas
Respected fisherman for 62 years
& true seaman forever at sea.
The family and community of Spring Bay lost a much respected professional fisherman, Mr Noel Edward Cruse, in July of 2015.