Tasmanian Seafarers' Memorial

| | | | |
| | | |
David Brian Richards (1971)
The plaque reads ...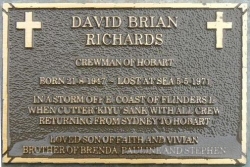 David Brian Richards
Crewman of Hobart
Born 21.8.1947 ~ lost at sea 5.5.1971
in a storm off E. coast of Flinders Is.
when cutter 'Kiyu' sank with all crew
returning from Sydney to Hobart.
Loved son of Faith and Vivian
brother of Brenda, Pauline and Stephen.