Tasmanian Seafarers' Memorial

| | | | |
| | | |
René Maugé (1802)
The plaque reads ...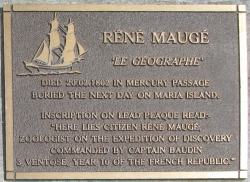 René Maugé
'Le Geographe'
Died 20.02.1802 in Mercury Passage
Buried the next day on Maria Island.
Inscription on lead plaque read:-
"Here lies citizen René Maugé,
zoologist on the expedition of discovery
commanded by Captain Baudin
3 Ventose, year 10 of the French Republic."
Zoologist René Maugé aged 42 sailed on Le Geographe with his friend Nicolas Baudin. Maugé became ill with dysentery contracted whilst the ship was in Timor and died on arrival in Van Diemans Land.
Baudin wrote that "with the death of Citizen Maugé the expedition has incurred an irreparable loss. This naturalist did not have the title of scientist but, single-handedly, he did more than all the scientists put together"
Nevertheless the work of the expedition continued unabated.