Tasmanian Seafarers' Memorial

| | | | |
| | | |
Colin Maxwell McKay (1942)
The plaque reads ...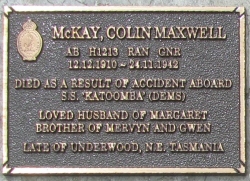 McKay, Colin Maxwell
AB H1213nRAN Gnr
12.12.1910 ~ 24.11.1942.
Died as a result of accident aboard
S.S. 'Katoomba' (DEMS).

Loved husband of Margaret
brother of Mervyn and Gwen
Late of Underwood, N.E. Tasmania
Colin Maxwell McKay A. B. RAN 24.11.1942 TSM 90.
Born in Tasmania in December 1910, Colin Maxwell (Max) McKay enlisted in the RAN on May 24 th 1940. He was posted to Olive Bank 1941 – 42, Chilka 1942, 'Tanda' 1942 and on August 28th 1942, he commenced service as a gunner on the requisitioned vessel S. S. Katoomba (DEMS).
The Katoomba had been requisitioned as a troopship during WW1, returned to passenger service in March 1920 before again being needed as a troopship during the Second World War.
Able Seaman Max McKay died on active service in Sydney as a result of fracturing his skull in a fall down a companionway on S. S. 'Katoomba'.
The Examiner newspaper reported in June 1942 that Gunner Max McKay RAN had returned to the mainland after a month's leave with his wife at Underwood. The same newspaper carried the sad news of his accidental death in November. He was buried with full naval honours in Sydney. He was survived by his wife Margaret Elisabeth McKay of Underwood, NE Tas.
SS Katoomba
Summary: At Sea. 1944-02-07. Starboard side view of the troopship HMAS Katoomba.
Copyright: clear