Tasmanian Seafarers' Memorial

| | | | |
| | | |
Francis Cyril Little (1924)
The plaque reads ...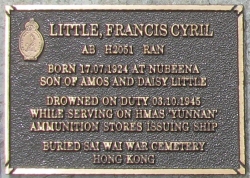 Little, Francis Cyril
AB H2051 RAN
Born 17.07.1924 at Nubeena
Son of Amos and Daisy Little
Drowned on duty 03.10.1945
while serving on HMAS 'Yunnan'
ammunition stores issuing ship.
Buried Sai Wai War Cemetery"
Hong Kong
Francis Cyril Little AB RAN H2051 03.10.1945 TSM 91.
Able Seaman Francis Little was born at Nubeena on July 17 th 1924. He was the son of Amos Henry and Daisy Theodora Little, who were later listed as living at Dromedary, Tasmania . He enlisted in the navy on April 20th 1942 and after various postings, joined the Ammunition Stores Issuing Ship, HMAS Yunnan which operated in northern waters mainly between Queensland, New Guinea and the Philippines.
Requisitioned by the Australian Navy in 1942, the ex-MV Yunnan, 2812 gross tonnage, belonged to the China Navigation Company of Melbourne. The war ended on August 15 th 1945 and a few days later HMAS Yunnan returned to the Philippines, serving there until October before she paid off on January 31 st 1946 and was handed back to her owners.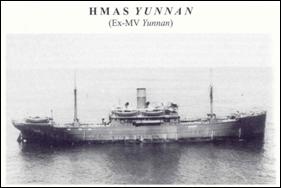 Francis Little however never returned to Australia. He was drowned on duty on October 3rd 1945 and was buried initially in Manila before being relocated by the Commonwealth Graves Commission to Sai Wan War Cemetery (I. E. 4) on the north-eastern tip of Hong Kong Island. He now lies at rest along with some 1600 Allied war casualties of World War Two.
Photo from: ' For those in peril ...'
by Vic Cassells.