Tasmanian Seafarers' Memorial

| | | | |
| | | |
Grubb, Henry Hobbs and Hugh Benjamin John (1894)
The plaque reads ...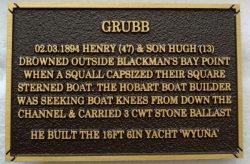 Grubb
02.03.1894 Henry (47) & son Hugh (13)
drowned outside Blackmans Bay Point
when a squall capsized their square
sterned boat. The Hobart boat builder
was seeking boat knees from down the
Channel & carried 3 cwt stone ballast.
He built the 16ft 6 in yacht 'Wyuna'.
Mr Henry Hobbs Grubb, aged 47, and his 13 year old son Hugh Benjamin John , of Battery Point, Hobart, were drowned when their square-sterned boat capsized in a S. W. squall, about 150 yards out from Blackman's Bay Point on 2 nd March 1894, after taking on a ballast of stone at Blackman's Bay.
A boat builder by trade, having been connected with the yachting fraternity for a large number of years, Henry was intending to go down the Channel to secure boat knees.
He was a favorite with yachtsmen, taking a great interest in anything relating to sailing crafts, and his ability as a boatbuilder was fully demonstrated by the 16ft. 6ins. yacht Wyuna , which had completely eclipsed all the other yachts of that class.
The bodies of the two were never found.
He was survived by his wife and 8 other children.