Tasmanian Seafarers' Memorial

| | | | |
| | | |
Brian Frederick Harrison
Betty Nancy Harrison
Brian Harrison Jnr
Fay Kathleen Percy
Terrence John Percy (1980)
The plaque reads ...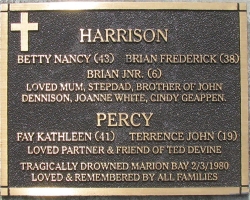 Harrison
Betty Nancy (43) Brian Frederick (38)
Brian Jnr (6)
Loved mum, stepdad, brother of John
Dennison, Joanne White, Cindy Geappen
Percy
Fay Kathleen (41) Terrence John (19)
Loved partner & friend of Ted Devine
Tragically drowned Marion Bay 2/3/1980
Loved & remembered by all families
TSM 95. Harrison – Percy 02.03.1980
A family outing on Marion Bay ended in tragedy when the half cabin cruiser was swamped while attempting to beach the craft in rising weather conditions about one kilometre from 'The Narrows' – a rough stretch of water dividing Marion Bay from Blackman Bay.
The bodies of Brian Frederick Harrison, Betty Nancy Harrison, Fay Kathleen Percy and Terrence John Percy were recovered but an extensive search failed to find any trace of 6 year old Brian Harrison Junior.
Only one person survived the tragic accident.