Tasmanian Seafarers' Memorial

| | | | |
| | | |
Harold Gordon Walkden (1918)
The plaque reads ...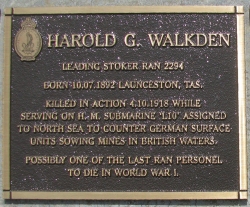 Harold G. Walkden
Leading Stoker RAN 2294
Born 10.07.1892 Launceston, Tas.
Killed in Action 4.10.1918 while
serving on H.M. Submarine 'L10' assigned
to North Sea to counter German surface
units sowing mines in British waters.
Possibly one of the last RAN personnel
to die in World War 1.
TSM 97. Leading Stoker Harold Gordon Walkden RAN Service No. 2294: 04.10.1918
Born in Launceston Tasmania on July 10 th 1892, Harold commenced a seven year engagement in the Royal Australian Navy serving as a Stoker 2 Class at HMAS Cerberus from 01.10.1912 to 23.11.1912, then Encounter 24.11.1912 to 31.12.1912 before proceeding to the London Depot 01.01.1913 to 20.06.1913.
He served aboard HMAS Australia from 20.11.1913 to 07.11.1917 before once again proceeding to London Depot for assignment 08.11.1917 to his death on 04.10.1918.
He was of very good character and his ability saw him rise to the rank of Leading Stoker on 11.06.1916. He was the son of Alice Walkden and husband of Jean. He was 5 ft. 7 ins. tall, had brown hair, blue eyes and a dark complexion. He was declared dead on 6th October 1918 as a result of enemy action. He is listed on the Plymouth Naval Memorial, UK .
(Source: AWM144 Roll of Honour cards, 1914-1918 War, Royal Australian Navy.)
On the morning of the 3 rd October 1918, HM Submarine 'L10', under the command of Lt. Commander Alfred Edward Whitehouse, was north of Terschelling and stalking a German convoy in the North Sea which had been attacked by British destroyers the previous evening.
That afternoon a number of German naval vessels were in the area searching for survivors and L10 signalled her intention of attacking the German squadron, which consisted of the German destroyers S33 and S34 as well as two motor torpedo boats (V28 and V29) which were en route to Germany from Zeebrugge.
The S34 struck a mine before L10 had a chance to attack and the S33 pulled alongside to rescue survivors. 'L10' used the opportunity to attack S33 with torpedoes, severely damaging her. Initially the crew thought that they may have hit a mine also but they then saw L10's conning tower come clear of the water. S33 managed to bring her guns to bear and sank the submarine through accurate and persistent shelling. The L10 sank with the loss of the entire crew of 39 of which Leading Stoker Harold Walkden RAN was one.
The wreck has never been located. The S33 subsequently sank also.
HMS L10 was a British L class submarine was built at Dumbarton by William Denny, was launched on 24.01.1918, was commissioned in June 1918. She was a modern and advanced boat with six torpedo tubes and a 4-inch gun. She was assigned to serve in the North Sea against German surface units counteracting German efforts to sow mines in British waters. She was the only 'L' class submarine to be lost during the war.
Irony:
The first Tasmanian to die in action in the Great War was AB Francis Cyril Baker RAN of Launceston who was a submariner, and possibly one of the last members of the RAN to die in that conflict was also a Tasmanian from Launceston and again a submariner – Leading Stoker Harold Walkden RAN.