Tasmanian Seafarers' Memorial

| | | | |
| | | |
Capt. Roy J Downie (1962)
The plaque reads ..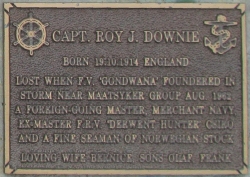 Capt. Roy J. Downie
Born 19.10.1914 England
Lost when F.V. 'Gndwana' foundered in
storm near Maatsyker (sic) Group Aug 1962
A foreign going master, merchant navy
ex-master F.R.V. 'Derwent Hunter' CSIRO
and a fine seaman of Norwegian stock
Loving wife Bernice. Sons Olaf, Frank
The Sydney Morning Herald headlined on 11 September 1962 that the "wreckage of missing boat found".
The report concluded that the fishing vessel Gondwana had foundered near Little Sister Island near Maatsuyker Island off the south-west coast of Tasmania as buoys and cordage from the vessel were located. The two crew, Captain Roy Downie and Roger Trueman were believed to be dead.