Tasmanian Seafarers' Memorial

| | | | |
| | | |
William Bowerman (1959)
William Bowerman TSM 92. 04.04.1959
The plaque reads ...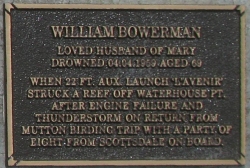 WILLIAM BOWERMAN
Loved husband of Mary
Drowned 04.04.1959 aged 69
When 22 ft aux. launch 'L'Avenir'
struck a reef off Waterhouse Pt
after engine failure and
thunderstorm on return from
mutton birding trip with a party of
eight from Scottsdale on board.
On April 4th 1959, a day's recreational excursion turned to disaster when the 22 foot boat L'Avenir was washed onto a rocky reef near Waterhouse Point, N. E. Tasmania. A party of eight from Scottsdale were returning from a mutton-birding trip to Waterhouse Island when the boat's engine failed.
Fierce winds whipped up by a violent thunderstorm swept the the vessel on to the reef. Six men and a 12 year old boy managed to reach landfall, however Mr William Bowerman (69), a TPI pensioner, was drowned in the heavy conditions.
Mr. Bowerman was survived by his wife, Mary, with nine of his thirteen children still living at the time of his death.
A newspaper of the day reported that in the previous three years 12 boats had been wrecked in the 18-mile stretch of water between Waterhouse Island and Bridport.
---
Extract from The Examiner April 6 th 1959 p. 10.
Death Notice:
BOWERMAN – On April 4, 1959, William, loving husband of Mary and loved father of Corrie (WA), Reg (Jericho), Rupert (Scottsdale), George (dec), Laurie (Jericho), Jean (dec), Joyce (Launceston), Merle (Hobart), Peter (Scottsdale), Pat (dec), Thelma (Scottsdale), Bruce (dec), and Terrance (Launceston). Accidentally drowned. Aged 69 years.