Tasmanian Seafarers' Memorial

| | | | |
| | | |
Patric C A Johnson
Jason Charles Johnson
Joshua Vere Colgrave (2006)
The plaque reads ...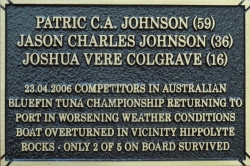 Patric C.A. Johnson (59)
Lason Charles Johnson (36)
Joshua Vere Colgrave (16)
23.04.2006 Competitors in Australian
Bluefin Tuna Championships returning to
pot in worsening weather conditions
boat overturned in vicinity Hippolyte
Rocks. Only 2 of 5 on board survived
Three generations of the same family drowned when their 5.8 metre aluminiun boat was swamped by a large wave causing it to overturn throwing the occupants into the sea.
All three of the deceased were from the small Tasman Peninsula town of Nubeena and were near the Hyppolyte Rocks just north of Tasman Island when the incident occurred.
Two others aboard the boat were saved.
Read the Coroner's Report on the deaths of the three fishermen.